Here comes another Epic Motorcycle Event brought to you by The Fallen Rider Support Team , Pace Law.
Dirt Squirrel Jamboree is bringing the Old Skool Motorcycle Field Day back and all for the love of our community and the charities we are supporting while having a little fun.
You don't have to have a motorcycle to participate in the fun!!!
Remember the days when Old Skool fun was getting dirty, life was simple and everything wasn't so cookie cutter, well this is what Dirt Squirrel is all about.
BRING YOUR NUTS
Two days of Kick Ass bands that will blow your mind
Joining us on main stage. Smoke and Mirrors, The Sandra Good Band (SGB), Mike Mckenna and the Slidewinder Blues band playing the music of Mainline and Stink, Monkey Wrench, Rebel Soul of Niagara, The Peasant Kings, Midnight Council, Big Motor Gasoline (BMG) and our Saturday Headliner Thunderstruck, North Americas #1 Live AC/DC Experience.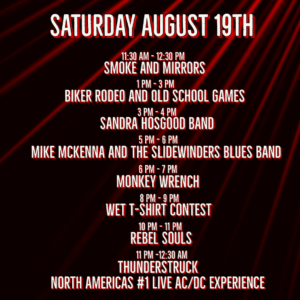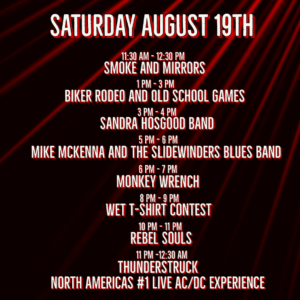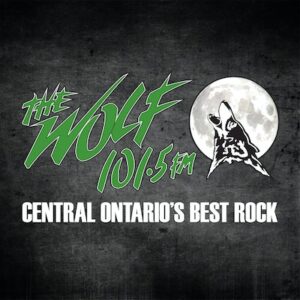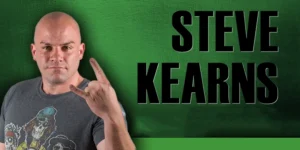 Steve Kearns from Central Ontario's Best Rock 101.5 The Wolf FM will be on location
Beer Tent, Great Food and Vendors galore
Old School Biker Rodeo Games, Wet T Shirt Contest and we mean old school so be prepared to get dirty
Barrel  Racing, and whatever other cools games we can come up with
Camping on site August 18th and 19th with hydro access for RV and tents
(Camping costs are based per person, per night, extra charges apply and not included in the ticket pricing)
Animals are very welcome as long as they are leashed at all times and there will be a separate area for them to run.
Don't feel like camping check out the link below
Explore Kawartha Lakes – Stay and Play
Weekend passes,  and Day Passes available
Contest's and Prize's
Saturday Night is Ladies Night and is adults only, due to the nature of games and contests so no children for overnights
but because we want everyone to have a good time we are offering day passes for you and your family to have even more fun!! 
Sunday is Family Funday
with plenty of things for the kids to do
Old School Field games for the both the kids and their parents. Family is important to us and we will have so many things for everyone to participate in and have a chance at winning some great prizes.
Contests, Contests, Contests!!!
50/50 Contest Brought to you by Five Counties Children's Centre where you could win as much as $4000.00
Team Parent Barrell Racing. Bring your dirt bikes or ATV's and participate with your kids for a great time with all proceeds going to The Five Counties Children's Centre of Lindsay.
Get those Motorcycles shined up for our Show and Shine brought to you by The Kawartha Charity Riders for a chance to win some awesome trophies. Classes will be posted soon with a Peoples Choice Award. $25.00 Entry on site with all proceeds to Five Counties Children's Centre of Lindsay.
Old School Carnival and Family Games
and SOOOOOOOOO Much More!!!!
Stay tuned for weekly updates in our Event section for this event and all the other amazing events we have going on this summer on our website
ITS GOING TO BE EPIC
With all our 2023 events, The Fallen Rider Support Teams goal is to raise as much money for our local charities and for charities that are lacking in research and we need your help.
100% of all the money we raise through contests and games on each day at Dirt Squirrel Jamboree will be going to Ovarian Cancer Research on the Saturday and Five Counties Children's Centre of Lindsay on the Sunday.
Five Counties Children's Centre
BC Cancer Foundation – Ovarian Cancer Research Centre Canada
So many ways to participate and all for some great prizes for those that put in that little extra effort and raise money for either or both of these charities.
Vendors who register and raise more then $250.00 in pledges will receive a $50.00 discount
Want to take the extra initiative to raise some money for either or both of these charities and have a chance to win some amazing prizes for your effort?
Top Pledge, Top Pledge within a Team and Top Team (maximum 10 members per team) for each charity donation platform.
Money is also being raised on the Saturday throughout the event with contest and games for everyone and with "Jen's Fight First Annual Ride for Ovarian Cancer Research" that kicks off directly from the event at 11 am, for a two hour ride led by the Rider's Group through our beautiful Region of Kawartha Lakes and back in time for all the fun.
The Ride Registration link is below and this is not your entry ticket into the event as all your registration money and pledges go directly to Ovarian Cancer Research and we are offering prizes as incentives as well for Top Pledge, Top Pledge within a Team and Top Team (maximum 10 members per team)
Jen's Fight Ride Registration, Pledger or Team Registration
Those participating in the ride will receive a $10 Non Transferrable Food Voucher to be used on either day of the event
This event is rain or shine and no refunds or exchanges on any ticket sales.
Your ID is required at this event due to liquor sales and entry into the beer tent will not be allowed without proof of age, no matter how old you look.
Ticket Sales are Early Bird Prices and will be increased after July 31st and will be available onsite for full pricing so get yours today!!!
  Beer tent you must be 19 years or older. Camping prices are not included in your ticket purchase and are extra.
Dirt Squirrel Jamboree Tickets
Hotel Listings
https://www.explorekawarthalakes.com/en/stay/stay.aspx
VENDOR APPLICATION
Vendor applications are attached with the incentive that if you choose to raise a minimum of $250.00 in pledges for either Women's Resources or Humane Society of Kawartha Lakes you will receive a $50 rebate on your Vendor fees after the show.
https://forms.gle/mgdXZjj61xjwaaDS6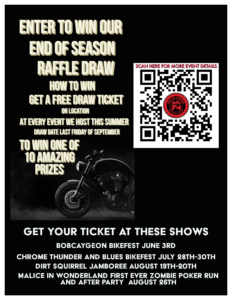 Please share your feedback with us!