Matt Simpson
Age: 21
Occupation: Lead Suspension Technician at Accelerated Technologies
Racing Experience: 6 Years
Bike: Yamaha R6
In the summer of 2016, when I was 15, I received my road racing licence and immediately started racing at Shannonville Motorsports Park in the Eastern Ontario regional RACE Super series. By 2018, I was winning races and championships in that series. In 2018, I also completed a full season in the lightweight division of the Canadian National series (also known as CSBK). In 2019, I finished 3rd overall in that division.
In 2020, I moved up to the Amateur Sport bike Class, which are bigger, more powerful 600cc bikes. Unfortunately, that year, the Global Pandemic affected racing of all types globally. CSBK was only able to hold a couple of events, which we opted out of. On the bright side, I was able to race at the Southern Ontario Regional series (SOAR) at Grand Bend Raceway and won an endurance championship.
In 2021,CSBK limited the tracks to Ontario only, but riders from other provinces were able to travel here. I finished 2nd overall in the Amateur Sport bike Division and I also had numerous race wins at both SOAR and Super series.
In 2022, i completed a full season of CSBK, finishing the year 4th in points with 3 podiums and 1 win.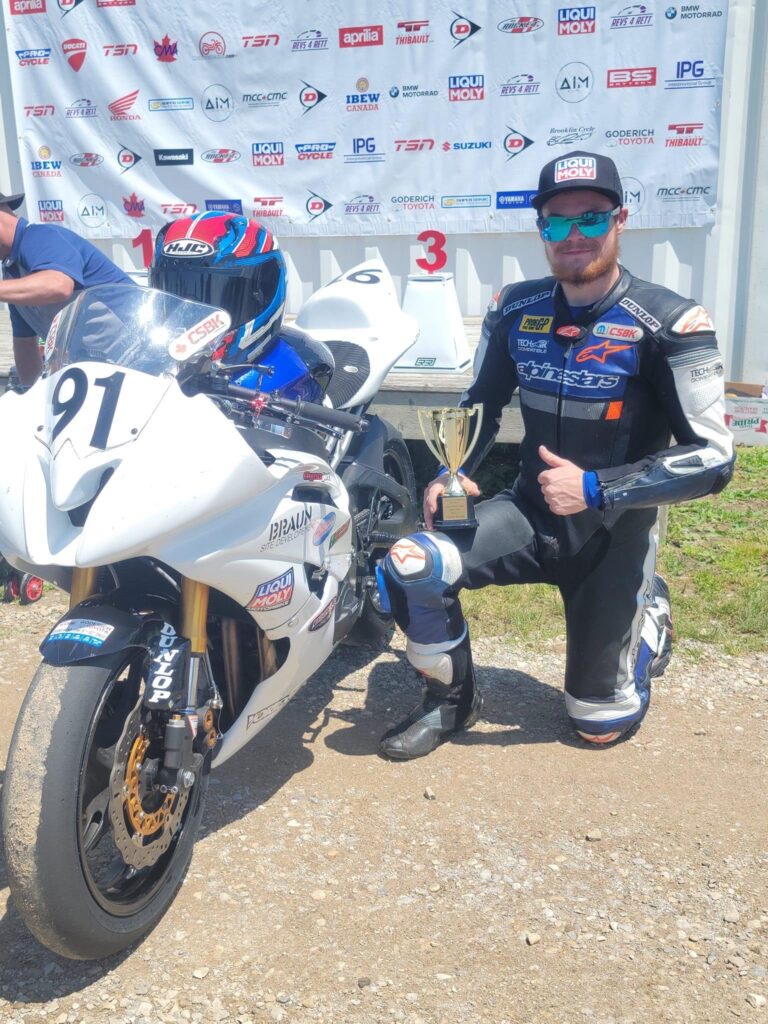 Round One  May 19-21  Shannonville Motorsport Park, Shannonville, Ontario
Round Two  June 8-11  Grand Bend Motorplex, Lake Huron, Ontario
Round Three  July 20-23  Atlantic Motorsport Park, Shubenacadie, Nova Scotia 
Round Four  August 18-20  Canadian Tire Motorsport Park, Bowmanville, Ontario 
Round Five  September 15-17  Shannonville Motorsport Park, Shannonville, Ontario
2023 Plans:
As I move into my second season in the pro ranks, I aim to win the championship in CSBK as I now have experience at the various tracks and have been a frontrunner in 2022. I also hope to compete in at least 1 round of the AMA National Series (Moto America), to test myself against the best in the USA.
The Team:
Currently, we have a small but extremely valuable team. Both my parents are fully committed to supporting on and off the track. John Sharrard, (CSBK Superbike Championship winning crew chief, 2014) helps build the bikes and provides technical expertise on how to improve the bikes handling while at the track. I also have numerous contacts within the sport that help with tuning, data analyzing, tire management and general set up tips.
Offseason:
Although I have a rigid physical training program in place, I also like to keep active on motorcycles of all types. During the winter months I train and compete on ice bikes.  In the spring and fall, I also train off road riding. I get a lot of practice at different Motocross parks. I have raced at Burnt River Motocross Park, in which I finished 3rd overall in the both classes I entered. I also raced in the Corduroy Enduro, which is a 2 day trail riding race across some of the toughest terrain in Ontario.